Thom's Irish Who's Who 1923
Our newest Irish family history record set Thom's Irish Who's Who is a treasure trove of information. Alexander Thom & Co. are best known for their "Dublin City & County Directories" but they made a brief venture into biographical notices with their 1923 "Irish Who's Who", which is now available fully indexed and digitised in the Irish directories category of our Irish family history records.
The directory contains 2500 names over 280 pages detailing those who, in the publisher's words were:
"conspicuous in the Nation's History, and includes leaders of thought and action in all fields of enlightenment and civilization".
The record set was compiled at a tumultuous time in Irish history, only two years after the creation of the Irish Free State and barely a year after the cessation of Civil War in Ireland. As a result this publication includes listings for all the important figures in the formation of the Irish Free State.
It also includes some of the great and the good of the Irish cultural scene. Below are some of the interesting finds we dug up but if you find any more do let us know!
William Butler Yeat's entry can be seen below, 1923 was the year in which he was awarded the Nobel Prize for Literature.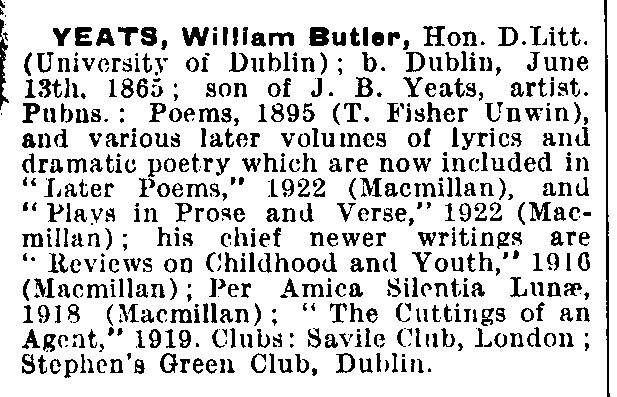 William's brother Jack entry from the previous page can also be seen:

The entry for Michael Collins, a year after becoming Commander-in-Chief of the National Army, can be seen, his address given as Mount Street, just around the corner from findmypast Ireland towers: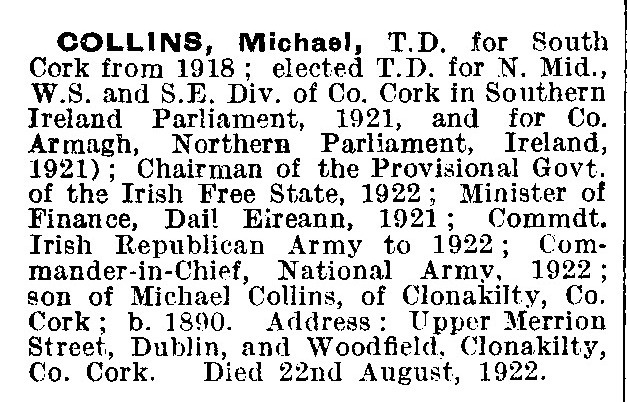 No record of the time would be complete without a listing for Eamonn DeValera: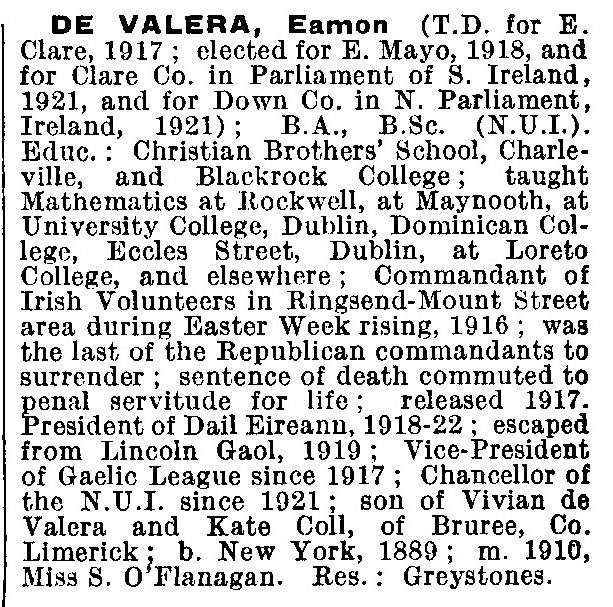 We can also see President of the Executive Council of the Irish Free State W.T. Cosgrave:

There's plenty more in there so do let us know if you come across any.