The Sun King's Irish Galley Slaves
We love a list of names here at fmp.ie and although this record set is not one we have on the website we thought you might like to hear about this rare and unusual 'offline' source for seventeenth and eighteenth century prisoners in the galley ships of France during the reign of Louis XIV.

In the late seventeenth century thousands of soldiers left Ireland to join continental forces, many served in the Irish regiments of Louis XIV's French army. While the involvement of Irish troops in the European wars of the late seventeenth and early eighteenth century are well documented their names are largely forgotten.
Some records were transcribed, such as those found in the de La Ponce manuscript housed in the RIA, a two volume history of Irish regiments in France listing the names and pedigrees of officers. This material was drawn on by John Cornelius O'Callaghan for his History of the Irish Brigades in the Service of France, published in 1869. While both of these are, undoubtedly, valuable and underused genealogical resources for the period, they are primarily concerned with officers, gentlemen, people with pedigrees, not ordinary soldiers.
The ratio of ordinary soldiers to officers means that for every officer we might know about there are probably ten (or more) ordinary soldiers whose names are largely unrecorded. Information on these men usually comes through casualty lists or from records of disciplinary actions.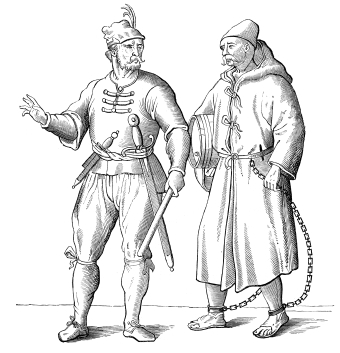 One small but fascinating source relating to the arrest and punishment of Irish soldiers in the French army is a list, compiled by Eoghan Ó hAnnracháin, of 167 Irishmen who were sentenced to serve as galley slaves aboard French ships between 1660 and 1748. The 167 names discovered by Ó hAnnracháin are scattered among those of over 60,000 prisoners recorded in the massive ledgers of the galleys, which are housed in the Service Historique de la Marine in Toulon, France. The dedicated research involved in discovering these names is to be greatly admired as they gives us a unique glimpse into the fate of ordinary Irish soldiers in this pivotal period of European history (those who broke the law anyway!).
Most of those sentenced to serve in the galleys were deserters, although others were charged with a range of offences from stealing to forgery. The deserters were sentenced to serve as rowers in the oar-powered galleys still in use well into the eighteenth century by the French navy to ferry goods between sailing ships. Conditions were harsh and most would die in their chains. Many opted to return to active service rather than face the conditions aboard a galley. Some even volunteered to work in towns as corbeau (lit. raven) affected by outbreaks of plague, removing and burying bodies of plague victims, such was the reputation of the galley ships.
The bulk of the entries in the list date to between 1690 and 1740, with most of them clustered around 1700-1710. The short entries are full of information. As well as the name of the prisoner and the charge for which they were arrested most entries note the prisoner's county of origin, their age at arrest and physical appearance, their parent's names are also recorded; and, in most cases, their fate. Occupations are also recorded in a number of the entries, these include wigmaker, tailor and shoemaker. Twenty-three counties are represented although the bulk (47) are from Dublin. The next largest groups are from Limerick (18) and Cork (17).
The three entries below give a flavour of these mini-biographies. The details are such that you can almost picture the man.
Ó hAnnracháin has provided us with a truly fascinating snap-shot of a group of men who would otherwise be wholly unknown to us.
John Armstrong son of Brian and Janette Lennon [Linon]; native of Ballinrobe, Ireland; mason; soldier in O Brien's company, Lee Irish regiment; aged 18; good build; oval face; chestnut hair; arrived on the Paris chain on 4 December 1716; sentenced by court martial at Douai on 6 July 1716; desertion; life; died or escaped after being loaned [prêté] to the town of Marseille on 24 August 1720 to serve as corbeau [lit. raven] during the plague.
Terence O Brien [Turrance Corien] called Irlandois; son of Daniel and Catherine; native of Cloyne [Cloune] in Ireland, aged 27; tall; oval face; chestnut hair; arrived at Marseille on 4 June 1703 on the Paris chain conducted by sieur Nicolas Moncau – 254 men of whom three died en route, and the chain of criminals from the Metz prisons – 32 men according to the list of St. Didier, Procureur du Roi; sentenced by the provost of the royal camps and armies at Strasbourg on 23 December 1702; complicity in the killing of the provost of a village and for having forcibly secured lodgings and food; life; [not indicated what became of him]
Stephen Sullivan [Sulval or Surval, Etienne]; son of Amhlaoibh [Houel] and Marguerite Maurice; native of Dublin, Ireland; soldier in the colonel's company, Anguenois regiment; aged 23; good build; long face; chestnut hair; arrived Marseille on 22 April 1701 on the Paris chain – 343 men of whom six died en route; sentenced by court martial at Logoux on 13 January 1701; desertion; life; freed on 23 March 1702 to serve in the Albermarle regiment for the rest of his life; handed over to Lieutenant Kuorville.
The full list of 167 names is available in Ó hAnnracháin, E. (2006) "Galériens: The Irish Galley Slaves of France", The Irish Sword: The Journal of the Military History Society of Ireland, Vol. XXV, No. 99
Past issues of The Irish Sword are available from their website http://www.mhsi.ie/thesword.htm
References & Further Reading
Chartrand, R., (1988) Louis XIV's Army, Men at Arms 203, Osprey Publishing
O'Callaghan, J.C. (1869) History of the Irish Brigades in the Service of France available on CD ROM from http://www.eneclann.ie/
Ó hAnnracháin, E. (2006) "Galériens: The Irish Galley Slaves of France", The Irish Sword: The Journal of the Military History Society of Ireland, Vol. XXV, No. 99
Ó hAnnracháin, E. (2007) "Men of the West in the Galleys of France", Journal of the Galway Archaeological and Historical Society, Vol 59, pp. 37-45
Ó hAnnracháin, E. (2007) "Dubliners in the Galleys of France", Dublin Historical Record, Vol. 60, No. 2, pp. 208-217