Start Your Family Tree Week returns
Join us for this year's Start Your Family Tree Week!
Every day from St Stephen's Day to New Year's Day, check out our hints and tips on how to start your family tree and get the most out of our records. Invite your friends and family to join you and make this year's Start Your Family Tree Week the best yet!
Thursday 26 December - St Stephen's Day
Claim your 30 free PayAsYouGo credits using the coupon code XMAS13*
*This code has now expired
Ask your family questions on St Stephen's Day using our guide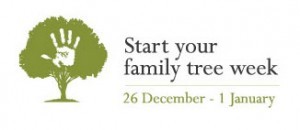 Friday 27 December
Start to build your family tree online with our free family tree builder
Fill in all you can with the information you gathered by asking your family questions.
Saturday 28 December
Start your 14 day free trial on findmypast.ie to search all of our records.
There are Christmas symbols we all instantly recognise but was it the same for our ancestors? Find out in our latest blog
Sunday 29 December
Are you missing any birth dates? Fill in the gaps by finding your relatives in our birth records
Keep adding anything you've found to your online family tree
Monday 30 December
Are you missing any marriage dates or maiden names?
Try our easy-to-use marriage records search to fill in the gaps.
Tuesday 31 December – New Year's Eve
Find out everything you need to know about family history in Ireland by reading our guide
Keep searching our records and adding to your family tree as you make discoveries.
Wednesday 1 January – New Year's Day
Happy New Year! Win a 12 month Ireland subscription.
Simply send your favourite family history discovery of Start Your Family Tree Week 2013 to competition@findmypast.ie and we'll choose our favourite.
You've still got time left on your findmypast.ie free trial - make it your New Year's resolution to carry on researching your family tree.
Imagine how much you could show your family next year...