Small Lives - Photographs of Irish Childhood 1860-1970
A new book out this month has piqued our interest for two reasons!
Small Lives: Photographs of Irish Childhood 1860 - 1970 is a window into childhood across Ireland over a century of great social and political change.  Using photographs from the collections of the National Library of Ireland the book shows children at school, at work and as part of major events and local festivities in their communities.  It is a fascinating photographic record of childhood in Ireland through the latter half of the nineteenth century and the first half of the twentieth.   And it just so happens the book was edited by our very own Aoife O Connor! In this post she gives us a glimpse at two of the earliest photographs from the book and the stories which emerged during her research.
Family photographs are precious. They add a whole new dimension to our families' stories.  Looking at the faces of our ancestors and seeing the family resemblances brings us closer to them and allows us more easily imagine them going about their daily lives. It can also be maddening to have a photograph, handed down through the generations, and not to know who the person is looking out at us from the past, is it a stranger? a neighbour? or a person we know intimately from our research?
While writing Small Lives I often wished I could know more about the lives of the children in the photographs.  Some will always remain a mystery as their names were not recorded by the photographer.  Others, which include a name and a date, provide a wonderful genealogical puzzle to be solved.  Using these few details we can discover how the children's lives unfolded.
The earliest photographs in Small Lives are of the sons and daughters of barons, high ranking military men and landed gentry.  These children were born into wealth and luxury, estate records show the extent of their family's holdings, in later life they can be found in Burke's Landed Gentry, later again census records list the many servants living in their houses.
One little boy, Matthew Charles Edward Fortescue,  photographed in an elaborate velvet outfit in 1866.  His outfit may have been to celebrate his being breeched, aged five.  Breeching was a significant transition for young boys in the 19th and 20th century.  They were now considered old enough to manage the intricacies of adult clothing. Breeching often coincided, in the case of wealthier boys, with the move away from home and the nursery to boarding school.  Matthew was born in India, and it was there that this photograph was probably taken before his move back to Ireland after his father, a major in the army died of cholera in 1867.   Matthew went on to become High Sherriff of Louth and can be found in Burke's Landed Gentry , 1899.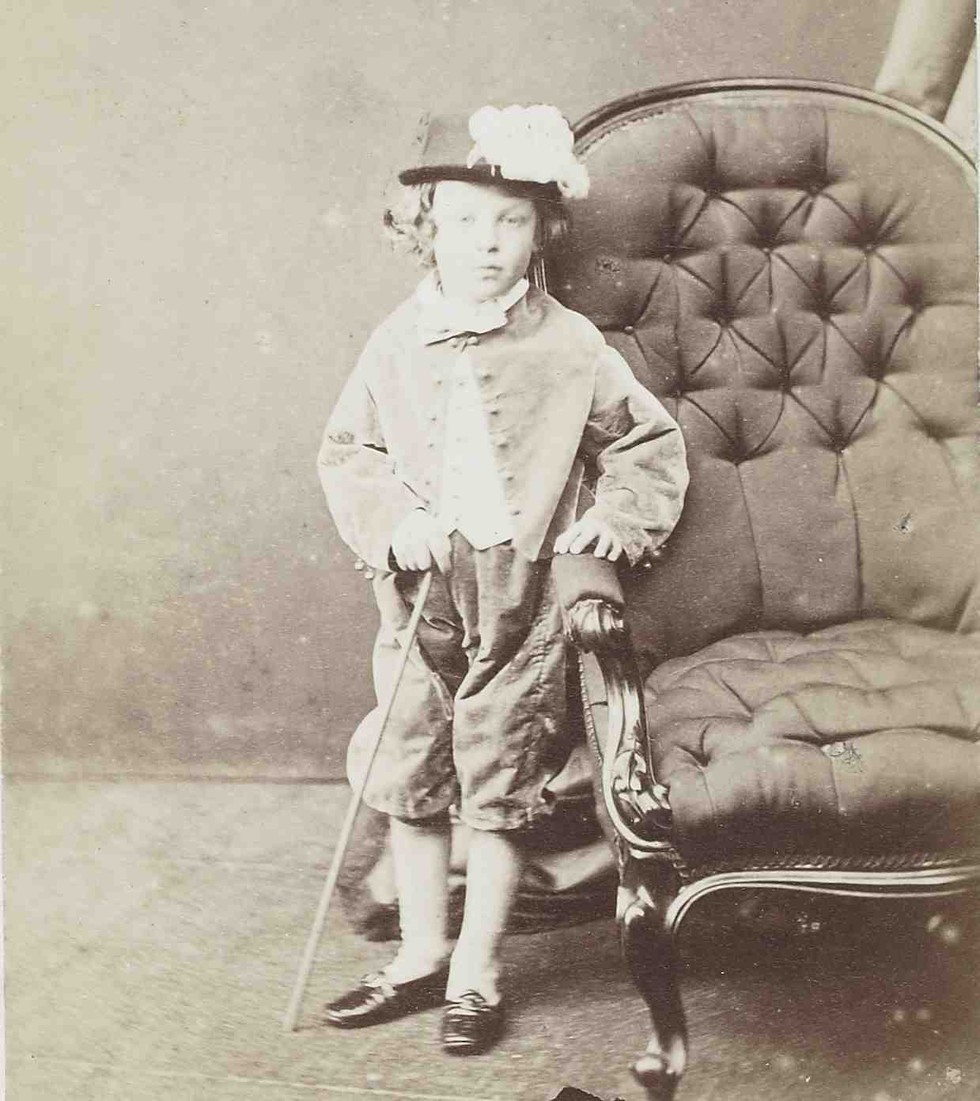 Photographed wearing fashionable dress, including a Medici belt and a bishop sleeve bodice, this girl's clothing is an adaptation of adult dress.   Photography was a novel and more affordable  alternative to having a portrait painted and in the 1860s photographic studios were opened in many towns.  Mary Adelaide has been provided with a chair to lean on to help her keep still during the long exposure time necessary in early photography.   For this same reason smiling was not encouraged in early photography as it is a difficult expression to hold for lengthy periods.
Photographed at around age 12, Mary Adelaide Domville grew up in Santry Court, Dublin where her father held the baronetcy.   On her marriage the house passed to her husband's family, and members of that family can be found living there in the 1901 census.  Mary Adelaide herself can be found in the 1901 census living in a household where servants outnumber the family members.