New Kindertransport records now available on Findmypast
This year marks the 70th anniversary of the liberation of Auschwitz-Birkenau, the largest Nazi death camp, on 27th January 1945.
To mark this remembrance, the theme of which is Keep The Memories Alive, and to help everyone remember the tragedies of war and persecution, today we have released records about the Kindertransport, which helped thousands of young Jewish refugees flee to Britain to escape Nazi persecution in World War 2.
Explore the Kindertransport records now
Background to the Kindertransport programme – persecution of the Jews in Nazi Germany
 In November, 1938, the assassination of German diplomat Ernst vom Rath in Paris by Herschel Grynszpan, a young Polish Jew distraught at the treatment of his family in Germany, prompted a wave of violence against Jews across Austria and Germany.
Dubbed Kristallnacht (literally "crystal night", due to the glass of broken windows flying through the air), the attacks that occurred on the 9th and 10th of November saw thousands of synagogues ransacked and burned, Jewish-owned businesses destroyed and marked the acceleration of a Nazi campaign which saw an unknown number of Jewish men, women and children killed, beaten and sent to concentration camps.
As the world's press reported on the horrifying events taking place, the international community reacted with outrage. The United States withdrew its ambassador from Germany, with a number of other nations severing ties completely. In Britain, the government approved a programme to provide opportunities for Jewish children to be evacuated and for their own safety.
The establishment of the Kindertransport
The Kindertransport, 'kinder' being German for 'children', was the creation of the British Jewish and Quaker communities who appealed to Prime Minister Neville Chamberlain to allow the relaxation of immigration rules in the case of at-risk children in countries such as Germany and Austria (later Czechoslovakia and Poland). Parliament agreed, and within three weeks of Kristallnacht, the first Kindertransport brought 200 children from Germany to Britain.
A public appeal for foster homes saw an initial 500 families volunteer to take children from the Kindertransport. Over the next 18 months, more than 10,000 children would escape the horrors of concentration and extermination camps thanks to the heroic work of organisers such as Gertruida Wijsmuller-Meijer, Nicholas Winton and others.
The children of the Kindertransport were often the only surviving members of their families. A number went on to fight for the British during the war, with others going on to become Nobel Laureates, internationally renowned artists and composers and politicians.
Our Kindertransport records
The collection of Kindertransport records recently added to Findmypast offer an incredible insight into the journey taken by these children. They mainly comprise passenger lists telling you the name of the child, their birth date and place, the date they departed Germany, name of the ship on which they travelled and their arrival port in the UK.
You can search by place of birth – these include Austria, Poland, Armenia, Switzerland, and even Ontario – but mainly towns in Germany.
There are 41 browseable documents in this collection including: minutes of the War Cabinet legislation committee and a copy of the Guardianship (Refugee Children) Bill draft; documents from the Education Department & Board of Education on the problems faced by gifted Jewish Kindertransport schoolchildren progressing to higher education facing financial problems and an enquiry from the German government on the well-being of German internees.
Not all the Kindertransport refugees were lucky enough to have foster homes, with many staying at holiday camps until appropriate homes could be found. One such camp was in Dovercourt Bay in Essex, and our records include reports and accounts from those who visited the camp.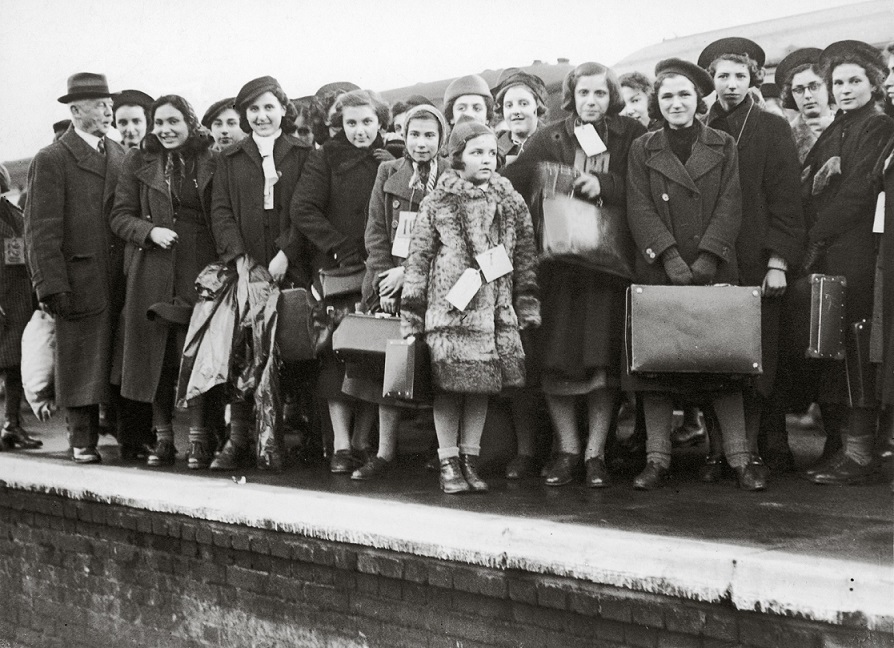 Jewish Refugee Children arriving in England, 1938
Eyewitness accounts of the Kindertransport camps
One report by Chief General Inspector C.F. Roundell, made on 19 December 1938 describes how: "Complete sets of clothing have been given by Messrs. Marks and Spencer for every child requiring them… Messrs. Marks and Spencer have fitted out these children… from top to toe, including gum-boots, and two members of Messrs. Marks and Spencer's staff have given their service gratis to attend in the camp."
In another report, Women's Voluntary Service Report worker N De Selincourt on 12 January 1939 describes how:
"The camp belongs to Butlins Company, who built it for the purpose of letting huts to town people in summer at the rate of about £2 a week.
 "It is used as a kind of clearing station for German and Austrian Jewish and non-Aryan refugee children until arrangements can be made for their future. These children are from 5 to 18 years of age, and their parents are mostly dead or in concentration camps. The Nazi authorities are apparently only too glad to get rid of the children, with the exception of boys of seventeen and over, whom they require for labour. They come through Holland, are only allowed to bring one mark out of Germany, and come into England in batches of varying numbers."
Browse our Kindertransport records today for a unique glimpse into an incredible feat of humanity in the face of unspeakable brutality.