How romantic were our Irish ancestors? We used our collection of historical Irish newspapers to find out.
The Irish are a famously lyrical people, having added a disproportionate contribution to the world of literature over the years, and being blessed with centuries of folk stories and songs that served as entertainment, local history and subversion.
With Valentine's Day on the horizon (and the pun in the headline on our minds), we've scoured our Irish Newspaper Collection to find examples of how Ireland approached the most romantic day of the year in the past, through poetry, letters and gifts.
Waterford Chronicle, November 29th, 1870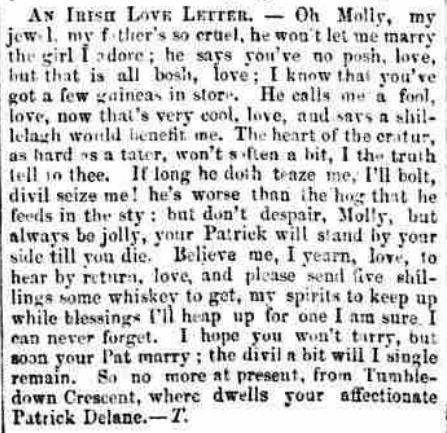 In 1870, a Patrick Delane wrote this love letter in the Waterford Chronicle, beseeching Molly (his 'jewel') to believe he will defy his father and love her forever. Oh, and whether she could send some money for whiskey, to keep up his spirits.
Cork Examiner, February 14th, 1844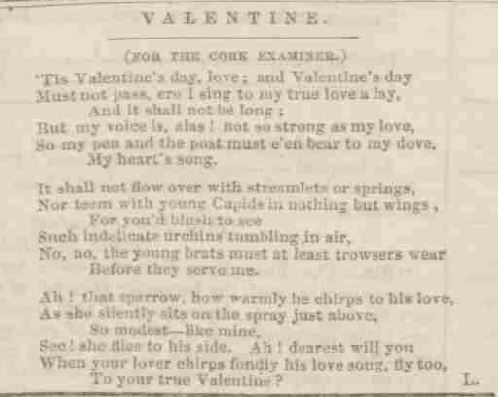 To 1844 and Cork, with another poem that suggests the author would only be charmed by Cupid provided his beau's sensibilities weren't offended by the absence of trousers on the little cherubs.
Dublin Packet and Correspondent, Feb 1840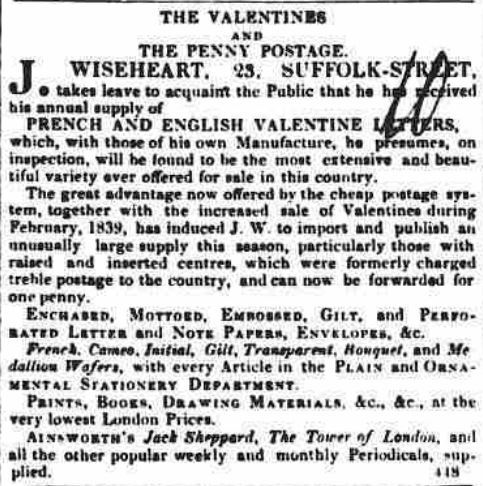 Valentine's Day isn't just about love, it's also about lucre. J. Wiseheart realised this as well as anyone, and so ensured he had the most extensive and beautiful selection available of French and English Valentines latters to enchant women across Ireland. What lady wouldn't love the ones with 'raised and inserted centres, which were formerly charged treble postage to the country, and can now be forwarded for one penny'?
Southern Reporter and Cork Commercial Courier – Feb 14th 1835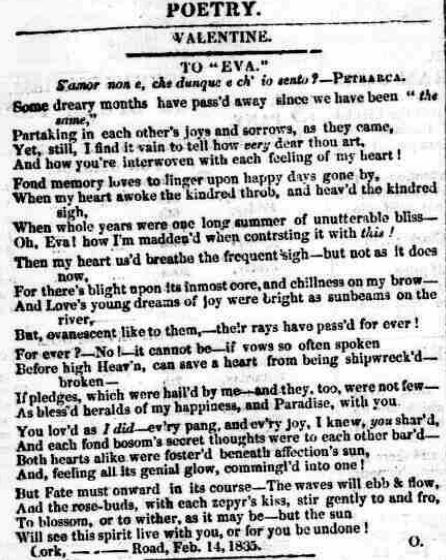 The earliest poem in our list is also the most beautiful, as an anonymous resident of Cork flexes some serious vocabulary to let the object of their affection know how they feel.
Roscommon Messenger, Feb 23rd 1850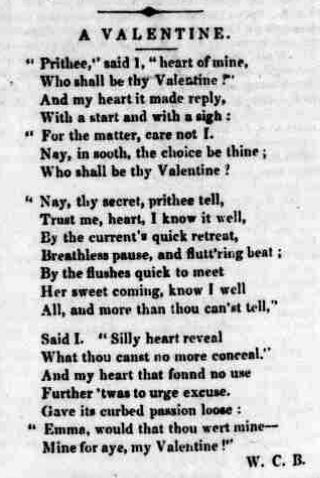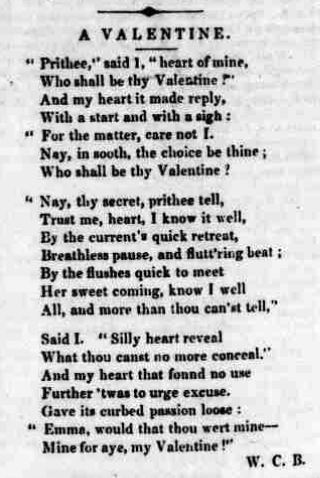 This writer's one-to-one with his heart confirms what he probably knew to begin with. Emma's the one for him, and no mistake.
Explore More Fascinating Tidbits from Ireland's Past

Cover image: Konstantinos Papakonstantino