John Philip Holland in the Tipperary Clans Archive
We were recently inspired by a goireland.com feature on Irish inventors to take a look through our Irish family history records for some of these famous Irish men and woman who made a huge contribution to science, technology and engineering. The first famous inventor we came across was John Philip Holland, the man who invented the submarine.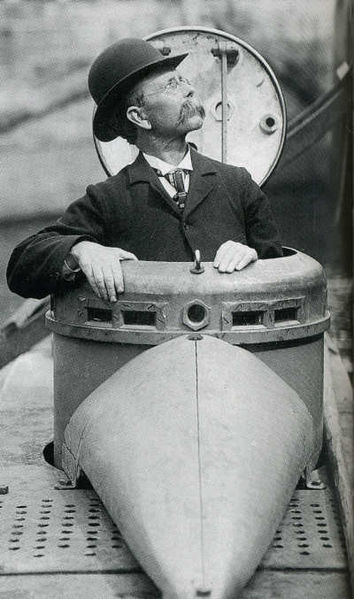 John Philip Holland was born into an all Irish speaking family in Liscannor, Co. Clare on February 24 1841. He eventually became a school teacher in various Christian Brothers' schools throughout the country. Influenced by his love of science and engineering he began to work on designs for aeroplanes and battle ships, some of which were intended for use under water. He completed his first detailed designs for a submarine in 1859, a design which he never radically changed. In 1870, Jules Verne's novel "20,000 Leagues Under the Sea" was published, giving Holland a fresh impetus to turn his design into a reality.
He followed his mother and brother to Boston in 1873 where he initially worked for an engineering firm before returning to teaching in St. John's Catholic School, Paterson, New Jersey.  It was in new Jersey that Holland planned and built his first submarine the Holland I which made several successful dives to a depth of 12 feet. By this time his brother had become heavily involved with the Fenian Movement in America who agreed to fund the research and construction of Holland's designs in order to use them against the British. In 1881 Holland completed the construction of the Fenian Ram but fell out with the Fenian's over money.
In 1896 he set up a private company to develop his submarine designs further and eventually after much alterations, failed prototypes and huge personal investment Holland sold the Holland 6 to the U.S. Navy in October 1900 for a price of $150,000, half the price it cost to build. It was the first submarine of the U.S. Navy.
Holland went on to sell his designs to the British Navy and built two submarines for Japan. He died of pneumonia at his home in Newark, New Jersey on August 13 1914. Below we can see his death recorded in the Tipperary Clans Archive:

More information on the Tipperary Clans Archive