Nestled in a city centre church in the heart of Dublin city is the shrine of St Valentine.  A 3rd century martyr, Valentine was beheaded for illegally marrying couples.  Marriage was forbidden by the Roman emperor Claudius II as it made it difficult to recruit men, reluctant to leave loves ones, to the army.  The saint's feast day has been celebrated since the 5th century and the Carmelite church has housed the reliquary (casket) since 1836.  The casket holding the remains of the martyr have become a focus for prayer concerning loved ones.   On St Valentine's Day people from all over the world visit the shrine to renew their vows, and over the years many a marriage proposal has been made in this very special place.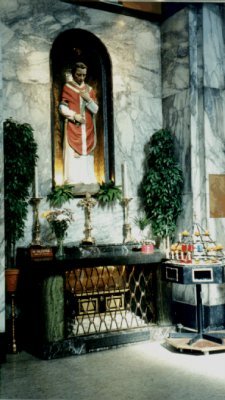 To celebrate Valentine's Day we took a look at some of Ireland's traditions around courtship and love and were intrigued by some of the tokens that were exchanged in the days before cards & chocolates.  Ireland's love symbols have a long history from the pagan worship of fertility goddesses such as Brigid and, in some interpretations, Sheelagh Na Gig.
The Claddagh Ring is probably Ireland's most famous love symbol.  The two hands clasping a heart are a symbol of love and friendship.  How you wear the ring is significant.  Wearing the ring with the point of the heart pointing outwards indicates that the person is single and perhaps looking for love.  Wearing it with the point of the heart towards the body indicates that the person is in a relationship.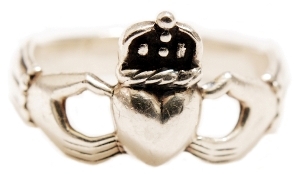 February was not the only time love tokens could be exchanged.  Harvest knots were exchanged at the Lunasa harvest festival in August.  These marvellously intricate pieces, usually made by men for their sweethearts, were worn as button-holes over the lady's heart.
A slightly more unusual Irish love token was a hurling ball (sliotar) given to a player by an admirer and made with the young woman's hair.  The ball, used in the traditional Irish sport of hurling, can be made with a variety of materials wrapped in a casing of leather.  Modern balls are made with cork and leather.  What a romantic gift.......