Interesting finds in the Sinn Féin Rebellion handbook
Although the Sinn Féin Rebellion handbook predominately deals with Irish rebels and British soldiers who fought during the 1916 Easter Rising, there are also some other very interesting finds which are sure to be of interest to those researching their Irish family history.
Among the 6700 names listed in the special weekly Irish Times publication there are both heroines and a few unfortunate citizens caught in the cross fire. Some of their stories are almost as interesting as those of the rebel leaders, a few that stood out are below:
Louisa Nolan & Florence Williams
Louisq Nolan and Florence Williams are among only 150 women to be awarded the British Military Medal.  They were recognised for their services to wounded British soldiers under fire during the Easter Rising, both of whom pulled wounded soldiers from the fray under a hail of bullets. You can see both their entries in handbook in full below: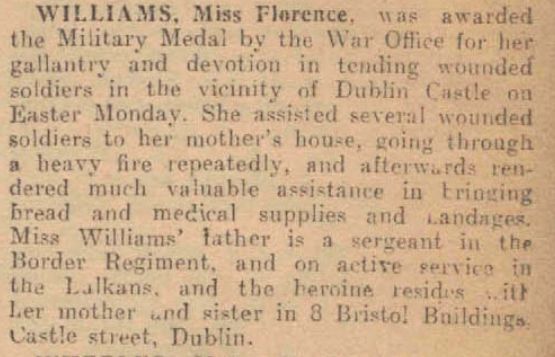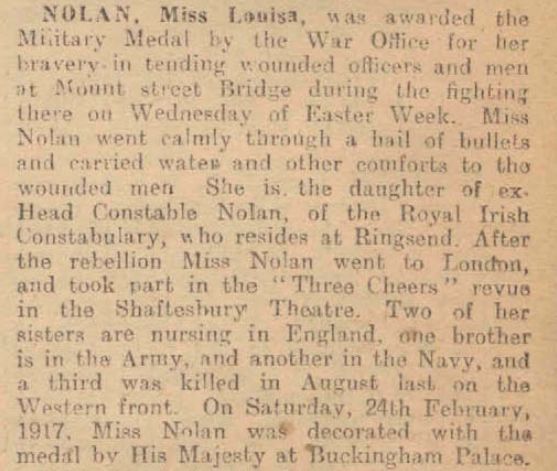 Incidentally, Miss Nolan's MM was sold in the late 1960's for £125 and again at Sotheby's in November 1984 for £2,200.
Richard Waters
Mr. Richard Waters was a bank official with the Bank of Ireland who was shot  while approaching Mount Street Bridge, just around the corner from findmypast.ie towers. His full entry in the Who's Who in this Handbook section can be read below: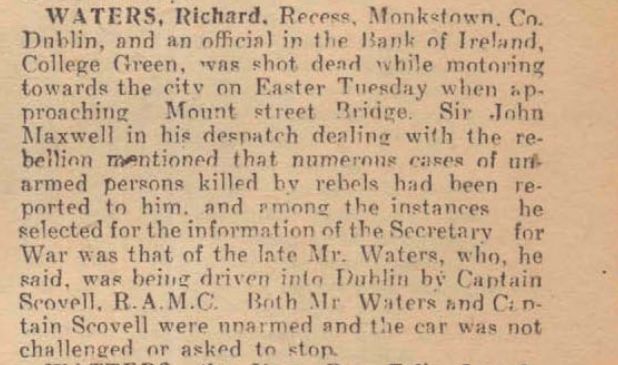 Thomas Joze
Thomas Joze was a well-known chemist  travelling home from his pharmacy on Dame Street to his home on Arran Quay who appeared to be shot by a rebel soldier without reason or warning.

Read more about the Sinn Féin Rebellion handbook here