FREE Birth, Marriage, Death, Census and Suffragette Records: What's Included and How to Access
Birth, marriage, death, census and suffragette records go FREE on Findmypast for a limited time
To celebrate 100 years of votes for women, we're encouraging as many people as possible to connect with their own inspirational female ancestors by tracing their family history. To help, we've made all of our civil birth, marriage, death and census records FREE from Thursday 1 February - Thursday 8 February 2018. Plus, our newly-released Suffragette Collection is available FREE for an extended period until Thursday 8 March 2018.
FREE access begins at 9am (GMT) on 1 February
Births, marriages, deaths and censuses will remain FREE until 11.59pm (GMT) on 8 February. During this time you can enjoy all of Findmypast's birth, marriage, death and census records (some of the most essential resources in family history) completely FREE. The Suffragette Collection will remain FREE until 11.59pm on 8 March, allowing you to uncover the amazing stories of the women who changed history.
What is Included in the FREE Access?
All of our civil birth, marriage, death and census records are included in this free access promotion. That means any records you explore under the Civil Births, Civil Deaths & Burials, Civil Marriage & Divorce or Census sub-categories will be completely free to view.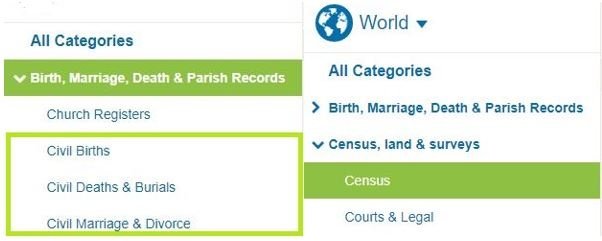 The highlighted record collections are FREE to access until 8 February
As well as that, our new Suffragette Collection is FREE until 8 March. You can access it directly here.
Highlights of our FREE access promotion include:
What is Not Included?
Records that fall into our other record categories and sub-categories, including military, travel, newspapers, crime and directories are not included in this free access promotion. It's also important to note that only the sub-category of census records are free within the larger 'Census, Land & Substitutes' category, meaning land records, electoral rolls and other sub-categories are not included. Likewise, only civil births, marriages and deaths are free to access but most of our parish baptisms, marriages and burials are not.
Importantly, the 1939 Register is also exempt from this free access promotion. To explore any of the aforementioned records, you'll need a suitable subscription. Find out more details on our payment page.
How Do I Access the FREE Records?
From 1-8 February, you can take advantage of our free access to birth, marriage, death and census records in 3 simple steps.
1. Register or Sign-in
If you are not already registered with Findmypast, you'll need to do so in order to view the free records. Registering is free and only takes a few moments. Simply visit our registration page and complete your details to set up your Findmypast account. If you are already registered with Findmypast you can sign-in on that same page using your email address and password.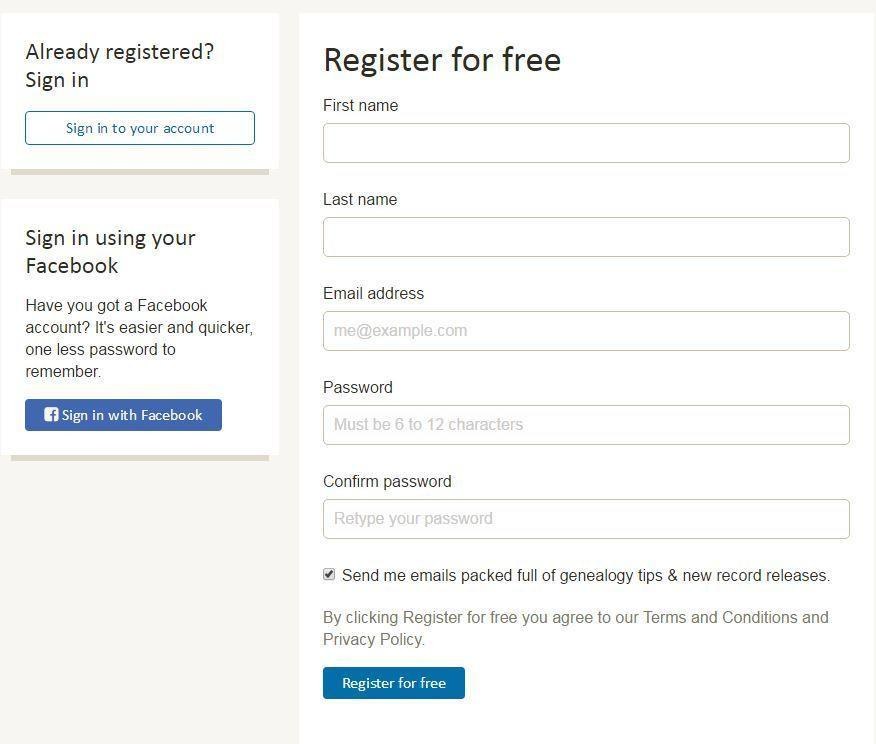 Complete your details and register for free
2. Search the Records
You can start searching our free birth, marriage, death and census records, using the simple search form on our dedicated page. All of the relevant record sets are included in that search so that all of the results you see will be completely free to view. Simply fill in the search form with any details you know about your ancestors and click the blue 'Search records' button. If you only want to search the new suffragette records, you can access them here.
3. View the Records
Once you've clicked search, you'll be taken to the search results page where records matching your criteria will be listed. You can edit your search or order the results from this screen. If you would like to view any of the free records click the small blue transcript or image icons beside it. The transcript is a typed version of the record, containing the most important information, while the image, if will show you exactly what the original record looked like and often contains extra details that the transcript doesn't.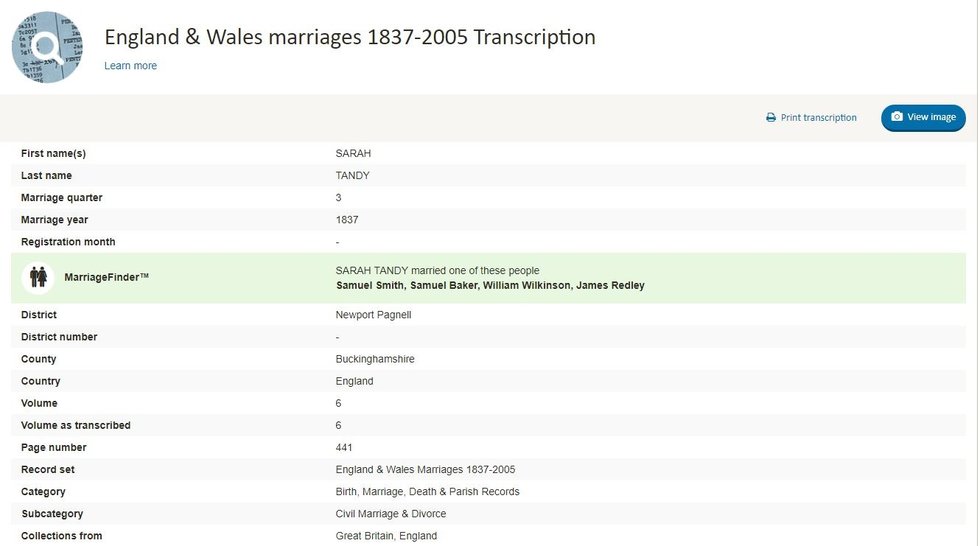 What a typical marriage transcript looks like
How Else Can We Help You?