Findmypast's Crime & Punishment Month: Week 2
In Week 2 of our Crime & Punishment season we're focusing on the second stage of the justice system: the trial, conviction and appeal process. We'll be publishing fascinating new articles, from a discovery of 24 criminal ancestors in one family tree, to the life and times of the 'Celebrity Hangmen' of the Victorian period.
Visit our Crime and Punishment page today
We'll be delving into the murky world of criminal gangs, with the exploits of Dublin's notorious gangs and those from further afield. There'll also be some helpful guides to interpreting the records in relation to your own tree.
Sentenced to death for a fiver
We've uncovered a particularly fascinating example in our collection: the case of Edward Ball, a man sentenced to death for the forgery of a five pound note.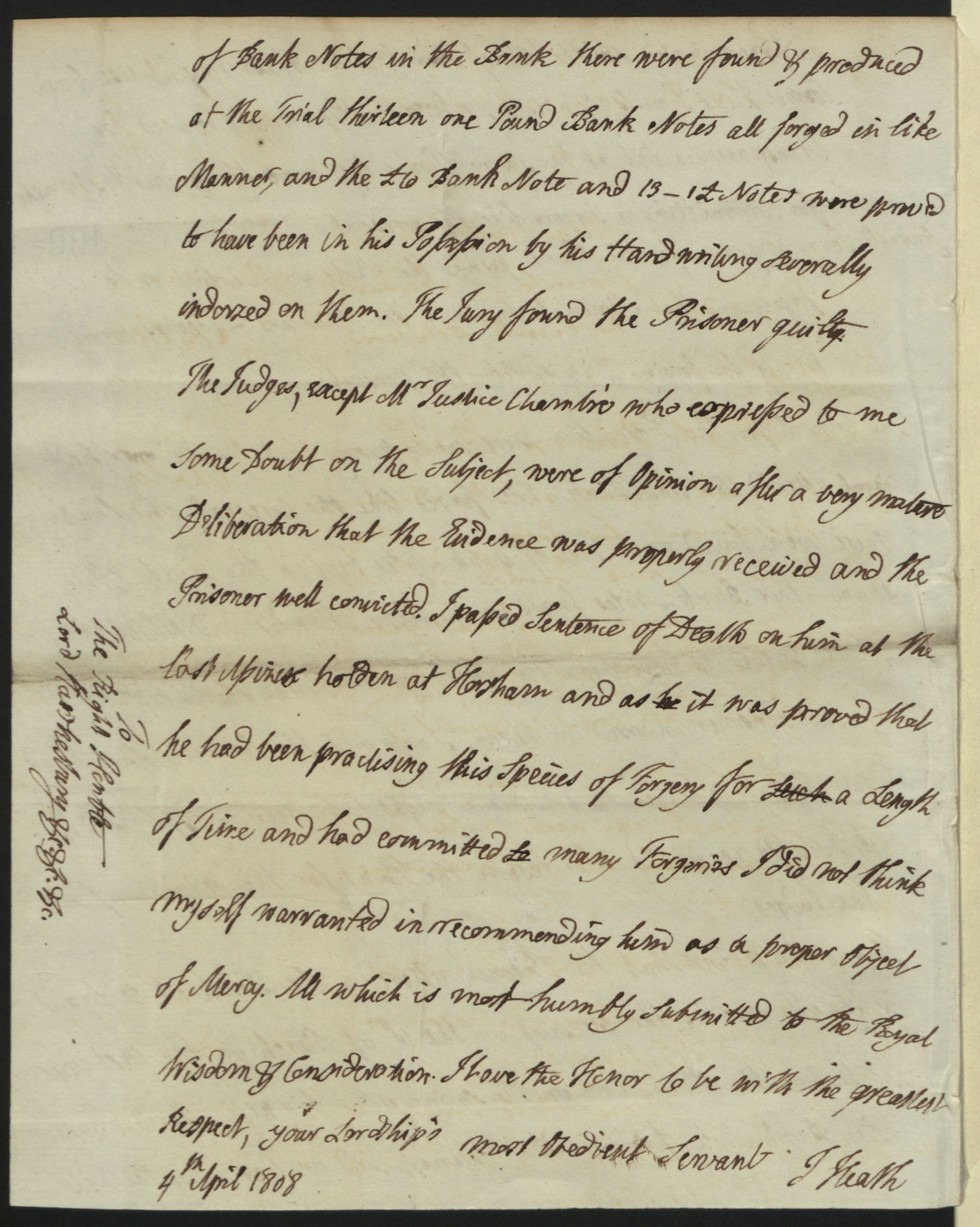 The judge's damning report for the case of Edward Bull
Our newly added Judges Report on Criminals set contains the musings of judges on the cases they adjudicated, and their justifications for sentences they laid down. The judge's report is quite damning for Ball, as it lays out all the evidence (including the possession of the equipment to forge banknotes) presented at Ball's trial. Based on this evidence, the judge concludes that "he [the judge] did not think… him [Ball] as a proper object of mercy."
We're also exploring our Registers of Criminal Petitions, which were usually initiated when a judge's report did not recommend mercy to a condemned prisoner. In the case of Edward Ball, his petition was started as a result of his death sentence. Signed by a collection of "Magistrates, Clergymen and Gentlemen of the County" and addressed directly to the king, the petition asks for a pardon for Ball on the basis that he was an artist and not a forger.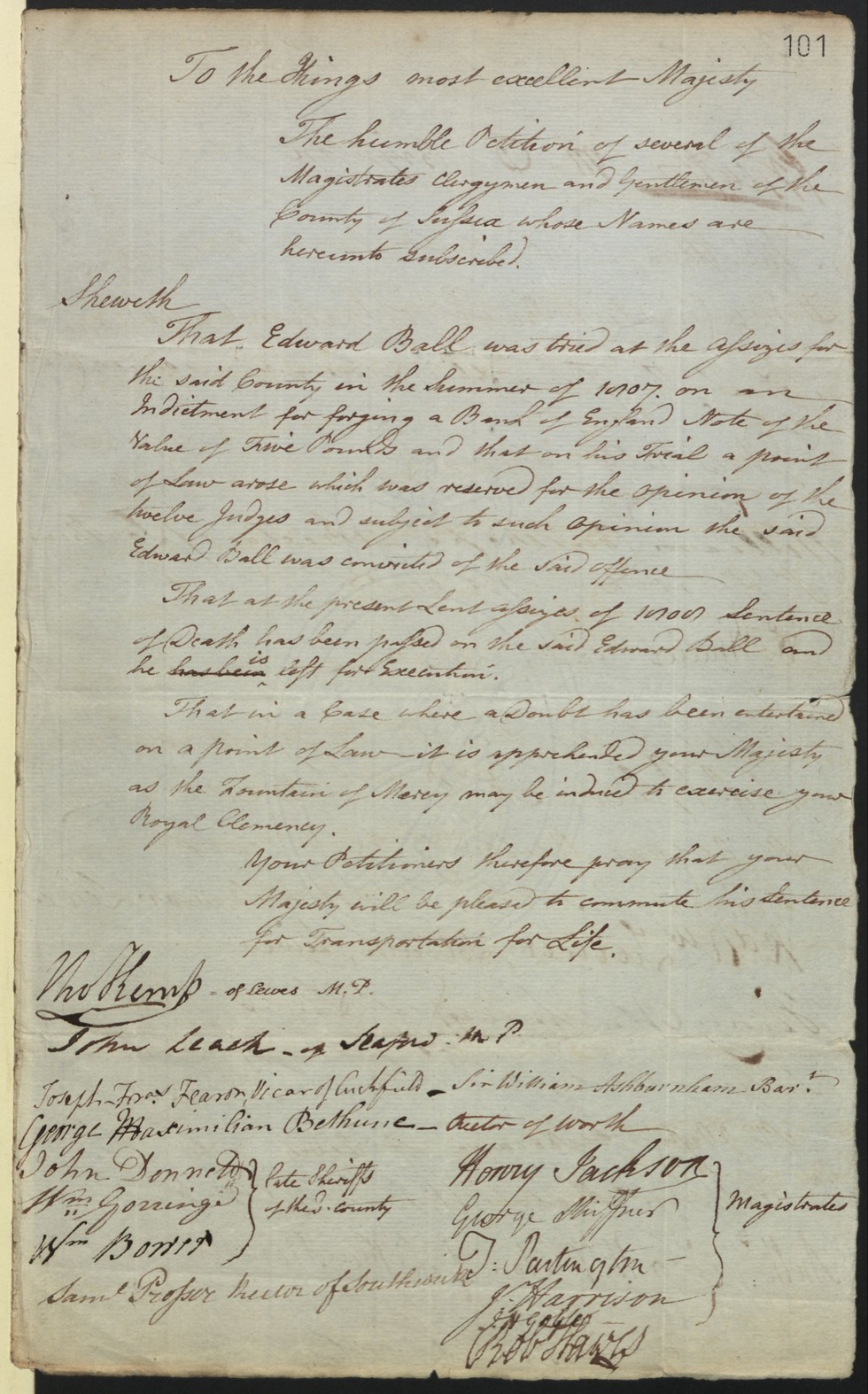 The petition for Edward Ball - an unsuccessful appeal to the king
Unfortunately for Ball, they were unsuccessful, and he was executed on 16th April in Horsham in front of a crowd of "hundreds of spectators". The Hampshire Chronicle printed an article about his death.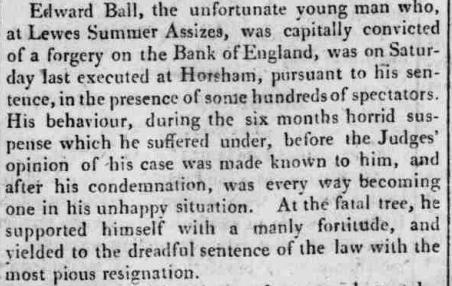 The Hampshire Chronicle's report of Ball's unhappy fate
https://www.findmypast.ie/Pay?isfreetrialrequest=true">Start a free trial today and uncover your family's murky past!
Follow the story of your criminal ancestors
If – unlike Ball – your ancestor was sentenced to prison, you can explore our Criminal Entry Books (HO13) to follow their journey. They'll tell you if your ancestor was moved to another prison, was pardoned, or joined the Army or Navy to escape their sentence. It also contains correspondence to and from crown officials and the convict's family and friends, so like the appeals, the records offer a great opportunity to trace the extended family of a convict.
Explore our brand new criminal records
Have you discovered any surprising stories, tragic miscarriages of justice, or despicable characters? We've really enjoyed the selection of sheep-rustlers, brigands and highwaymen you've told us about already! Share your stories in the comments section below.