findmypast Ireland at RootsTech 2012
I'm back in Dublin having attended my very first Rootstech conference in Salt Lake City, Utah, and I wanted to share some of my experiences with all of you.  For those of you who've never attended, Rootstech is a really interesting event, bringing genealogists together with technologists, to learn from each other and find solutions to some of the challenges faced in family history research today. Our parent company brightsolid was one of the sponsors of the conference, and we were there in force.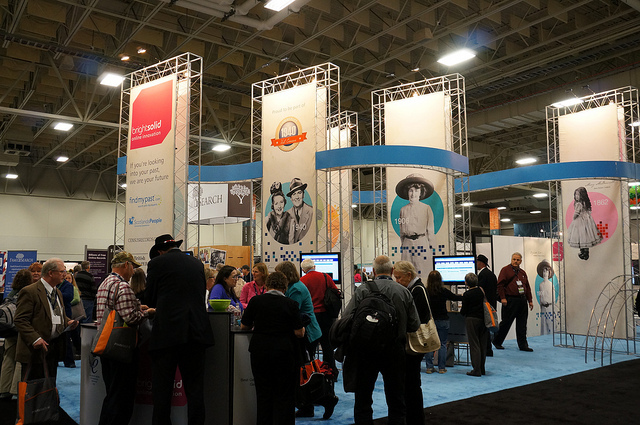 I arrived in Salt Lake City late on Wednesday, ready to meet up with my colleagues and get talking about findmypast. The exhibition hall opened at 10am on Thursday 2nd and we had crowds at our stand eager to talk about findmypast right from the start, which was brilliant. The theme of our stand was the 1940's, in honour of the soon-to-be-released US 1940 census. Our hats were quite the talking point and made us easily recognisable.
One of the highlights for me was getting meet to our members and discuss their family history. I thoroughly enjoyed showing off our Irish family history records and was lucky enough to help some people find some elusive Irish ancestors on findmypast.ie. I received some great feedback about what we're doing well and what we can improve upon.  I also gave some demonstrations of the site in our custom built demo area. There was a huge volume of people interested in their Irish family history, ranging from brand new genealogists just starting out to people who have been researching their family history for 27 years.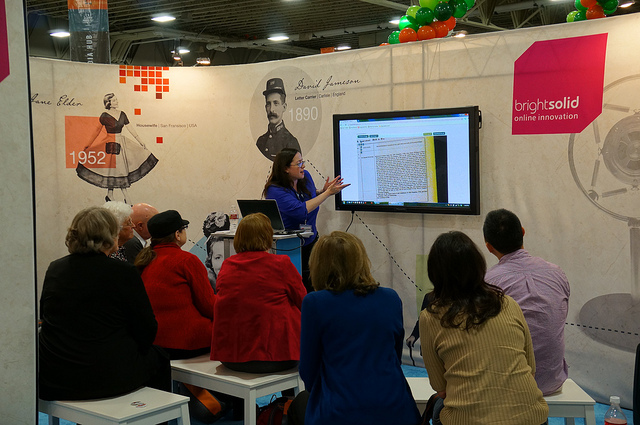 On Thursday Chris van der Kuyl, CEO of our parent company brightsolid hosted a lunch and gave a talk entitled "Why Everyone Deserves Their Own Episode of Who Do You Think You Are and How brightsolid Will Help You Get There" . Chris also announced some very exciting news at the lunch - findmypast.com is launching later this year! It was great to meet my new US colleagues who I'm looking forward to working with.
Findmypast Product Manager Ian Tester gave an engaging and thought-provoking presentation on Friday 3rd entitled " Telling stories: transforming the bare facts of genealogy into the astonishing tale of you and your family". He explored the role of creative narration in building your family history, and the tools that help you to do this. I've worked with Ian for almost a year now, and it was no surprise to me that his talk was one of the hits of the conference; I overheard people discussing it at least 5 times over the next 2 days!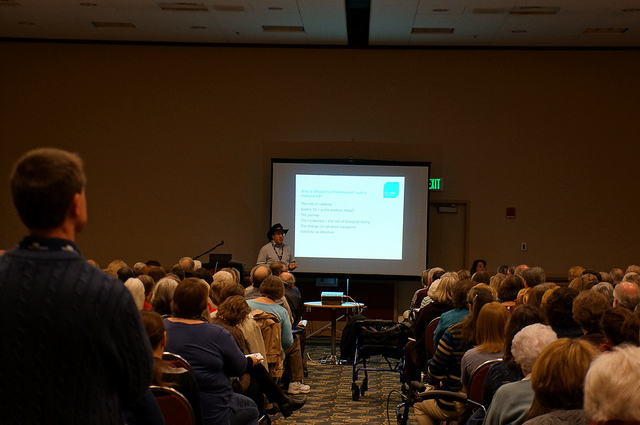 Saturday came and it was time to pack up. I was quite hoarse by the end of the conference, all for a good cause! There are recaps available on http://rootstech.org/ which will give you a flavour of the conference, and if you were in attendance and came over to our stand, it was great to see you and don't be afraid to get in touch and let me know what you thought.
I'm already looking forward to Rootstech 2013 and I hope to see you there.
- Cliona Weldon, General Manager, findmypast Ireland