6 Classic Welsh Recipes Plucked from Historic Newspapers
These classic Welsh recipes prove there's more use to our historic newspapers than just finding famous, infamous, and other newsworthy ancestors!
What comes to mind when you think of Wales? Daffodils, male choirs, sheep... Uncle Bryn from Gavin & Stacey, maybe? Or – if you're one particular member of our team – having an ice cream stolen from your very hand by a particularly ambitious seagull on Llandudno pier back in 1994.
Delicious local cuisine probably doesn't come to mind, but maybe it should. Wales is responsible for some amazing culinary inventions, as proven by a quick scour through old newspapers to unearth some traditional Welsh recipes, some of which are just as delicious now as they were back then.

Welsh Rarebit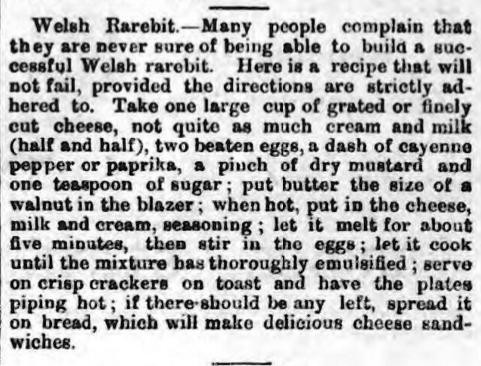 Framingham Weekly News – Saturday 10 February 1906
We're sure you've heard of this one. Welsh rarebit is, without question, a fine marriage of bread, liquid and cheese. The fact it so seldom appears on menus outside of Wales is nothing short of a travesty. This recipe eschews the beer often present in rarebit, but let's get to the real heart of the matter here: who the heck's putting a walnut-sized knob of butter in their blazer? Sorry, terrible, terrible joke (just trying to cover for the fact we have no idea what a blazer is in this context. An oven? Must be).
Welsh Wonder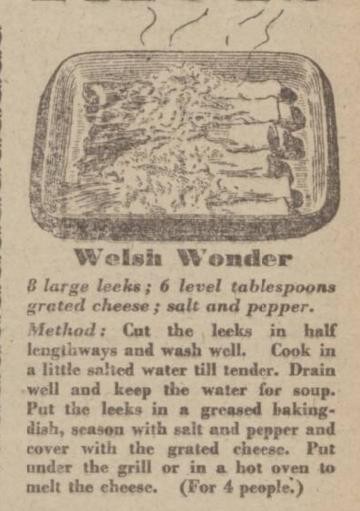 Derby Daily Telegraph – Wednesday 2 February 1944
Don't let the fancy name fool you, this is essentially Welsh rarebit under rationing. Well, if we're really nit-picking it's actually just leeks with some melted cheese on top. What's nice, though, is the inclusion of an illustration. It should be stressed here: World War 2 was on at the time this recipe was published, yet in a time when it was all hands to the (war) pump, it was still deemed a good use of someone's time to produce that beautiful illustration of this make-do-and-mend dish.
Welsh Cawl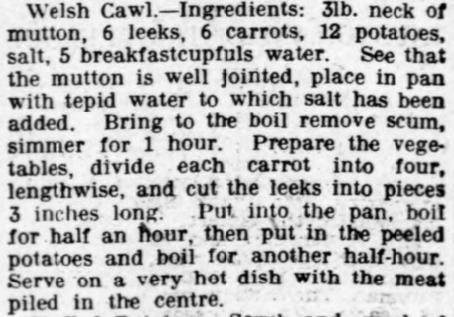 Taunton Courier, and Western Advertiser – Saturday 20 February 1937
The Welsh do love putting the country of origin in front of their dish names, don't they? Cawl is the Welsh equivalent of every single foodstuff that came from Britain in the period that began with the introduction of the potato and ended with the introduction of the Tikka Masala: take meat, boil meat, add vegetables, boil all nutrients out of vegetables, serve.
Laverbread

Ballymena Observer – Friday 1 April 1921
It's hard to imagine anything more Welsh than laverbread. OK, apart from Tom Jones. A number of different recipes present themselves in the newspaper archive – sprinkled with oatmeal and fried in grease being a couple of tasty alternatives – however this feels more traditional. Mash the seaweed up with flour, cook, season, eat.
Fried Welsh Cakes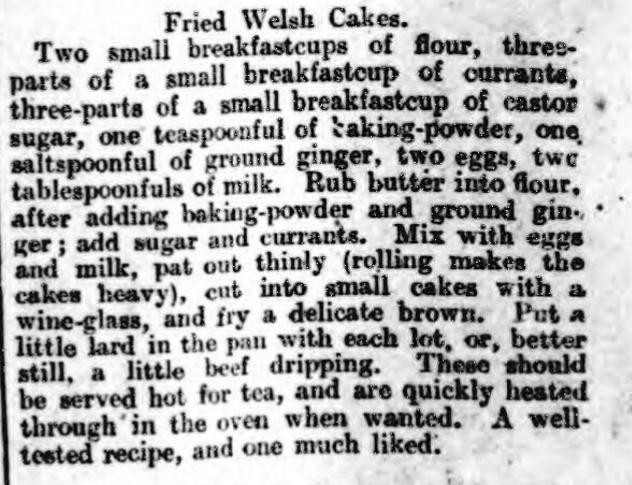 Dublin Daily Express – Saturday 18 July 1914
Welsh cakes are delicious, no two ways about it. This recipe is a classic, and one much liked indeed. Don't be shy with the lard – that's both good cooking advice and one of the most disgusting sentences ever produced.
Welsh Crompog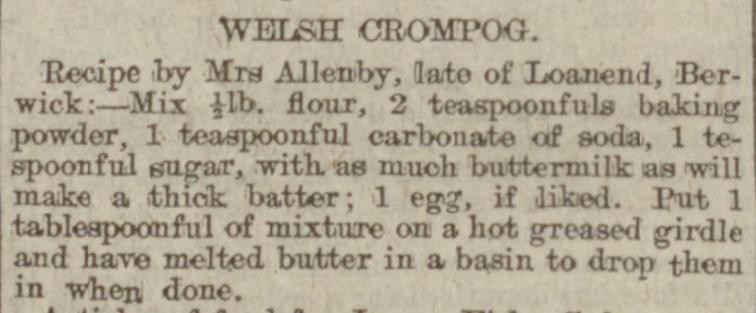 Berwickshire News and General Advertiser – Tuesday 30 May 1922
A crompog is a delicious kind of pancake-like disc, served hot with powdered sugar and jam, or bananas, or syrup or whatever. The reason this recipe was chosen is the inclusion of history's finest typo. When making crompog at home, use a griddle or frying pan. Do not – repeat, do not – attempt to make them using a 'hot greased girdle'.
We have a number of newspapers covering life in Wales over the past few centuries, as well as millions of records in which you can find your Welsh ancestors. Click the links to find out more.