Apologies for being so quiet of late, we were busy with preparations for our appearance at Back to Our Past, Ireland's largest family history show. The event took place last weekend and represented our first appearance at an event on our home turf. We had a brilliant time and were delighted to help so many people fill in gaps in their family history research.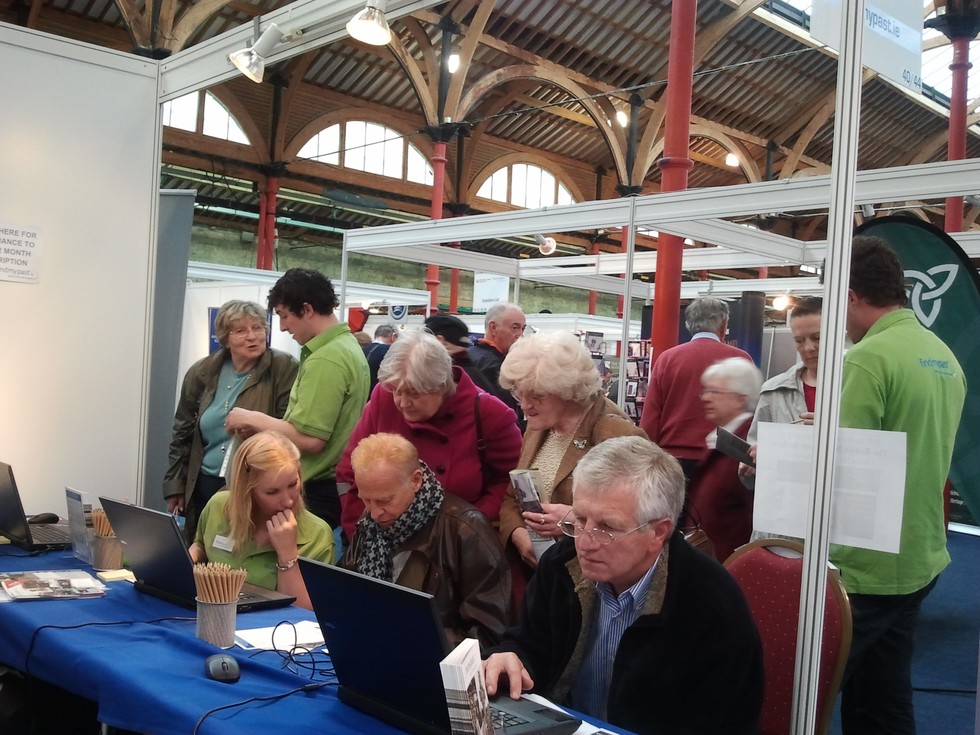 We really had no idea what to expect from the show but when we arrived at 11am on Friday to crowds already queing up outside the RDS in Dublin we soon realised how busy busy it was going to get. As soon as the doors opened on Friday the whole findmypast Ireland team, along with greatly appreciated assistance from Amy from findmypast.co.uk, were kept on their feet answering questions and helping visitors with their research. We had no idea that there was quite so many people out there who hadn't heard of us yet so it was great filling people in on exactly what records we have and how they could help with Irish family history research.
The lecture hall was a great success. We were involved in a number, which were met with a great reponse, and there was plenty of other interesting lectures from the likes of John Grenham and Karl Elliston, who spoke about the new Certificate of Irish Heritage.
One of our favourite things about the show was getting to meet all the family history experts who've been spoken to so much via facebook, twitter or email but had yet to meet. We had great chats with Bob Blatchford (Irish Family and Local History Handbook), Chris Paton (Scottish Ancestry Blog), Julie Phibbs (Irish Roots), Sarah from WDYTYA magazine and Eileen from an exciting new digital memorial project irishlivesremembered.com. It was great to see everyone enjoying the show so much and getting the word out there about their family history products and services.
The big hit of the show for us was the Irish Prison Registers. Despite one or two glitches on Friday, plenty of visitors to the stand found an ancestor, or in some cases two, in the prison records. We had a pretty high rate of incarceration here so there wasn't many shocking discoveries, in most cases "drunkenness" was the offence. They genuinely are such an exciting record set though, try a search if you haven't already.
All in all it was a great show and we're delighted that we could help so many visitors to the stand. We'll definitely be returning next year (with more laptops!).
See more photos on our facebook page