An insight into 19th Century Dubliners
As we delve deeper into our family history research we begin to imagine how our ancestors lived out their daily lives, the clothes they wore, the food they ate and the towns and streets they lived in become as important to their story as who their grandfathers and daughters were.   To get a flavour of their surroundings you can use the optional keyword box to search a variety of places and topics; from street-names to dogs to dung-heaps and wind your way along the historical pathways of the towns and cities of Ireland and discover more about places our fore-bearers lived in.  Find out who their neighbours were.  What scandals and tragedies occupied their minds?  Who were the characters who gave the city its hustle and bustle?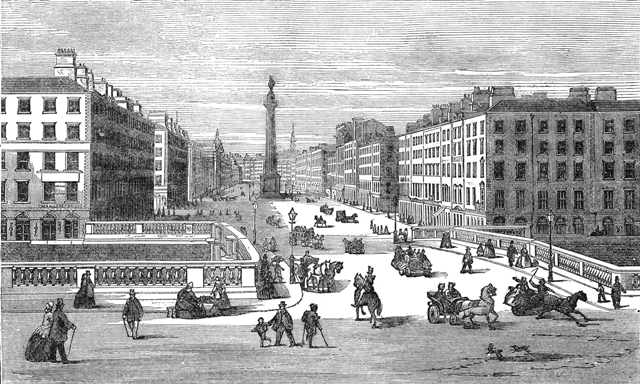 Extracted from the Irish Times newspaper 1859-1901 Byrne's Irish Times Abstracts paint a picture of a city bustling with life bringing into focus the many characters who inhabited Dublin in the late nineteenth century, from champion one legged dancers to fashionably dressed ladies, to the starker realities of a city infested by poverty.  With the Irish Times Abstracts we can expand on the entries found in directories such as Thom's and get behind the closed doors and see what the neighbours were up to!
Upper Baggot Street is a long street of impressive nineteenth century houses whose residents today are a similar mix to those that were there 150 years ago, solicitors and boutique businesses, with one notable exception.   In 1872 a dairy yard was causing complaints, excessive manure was building up behind the houses.   The proximity of the dairy yard to a busy city street was not unusual in the days before refrigeration, fresh milk in the 19th century meant getting it from the cow to the table in as short a time as possible, especially in the heat of the summer months.
On Barrow Street in 1884 a new gasometer has been installed.  Gas lighting had been introduced into the city as early as 1825, taking over from oil, and continued up until 1957 for some street lighting, despite the introduction of electric lighting some fifty years before.   It was along these flickeringly lit streets that your Dublin ancestors walked on autumn evenings.
Coming to the attention of the newspapers for many usually meant an initial encounter with the law.  On Chancery Lane in the old medieval quarter of the city we find cases of theft, fines for selling porter without a licence and assault, including that of Patrick Bergin against his wife.  He is, intriguingly, the one-legged dancing champion of the world.   It does not say whether he is a one-legged dancer, or whether he simply dances on one leg.
On Henrietta Street we find an intriguing mix of notices and advertisements over the lifetime of this once opulent street which throughout the nineteenth century went from respectable address to teeming tenements.  There are notices of men being called to bar (Oriel O'Hanlon, 1892), and an advertisement placed in search of a butler, and then there is poor John Abbot who was injured by a runaway bullock in September 1898.  The changing fortunes of the street are reflected in the many auction notices.
This record set is truly an authentic take on life in 19th Century Dublin. See what you can find out about the Dubliners in your family tree.
*remember no need to enter a name, simply put a word into the 'Option Keywords' box on the left hand side