A guide to Naval Service records on Findmypast
Running away to sea sounds like a romantic fantasy nowadays, but since the early 1500s Her Hajesty's Naval Service has been a means for adventure-seeking boys and men to see the world in a way which would otherwise have been impossible.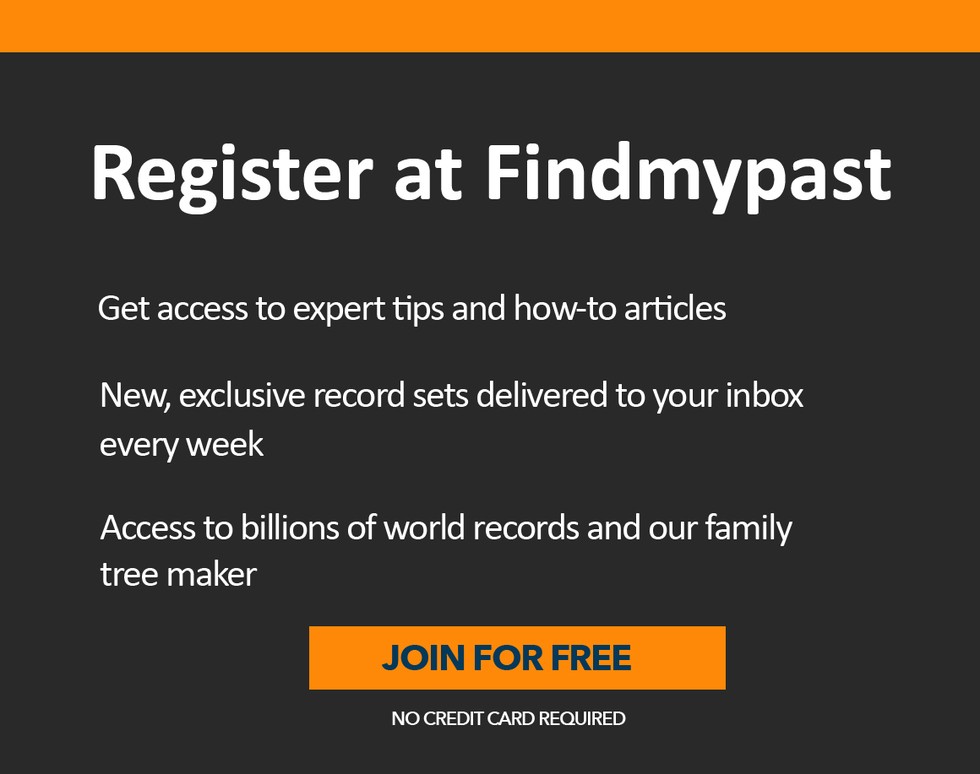 Boys as young as 15 could join, meaning that they could serve king and country several years before they might have been allowed to in the army.
The Senior Service
The Naval Service is the oldest branch of the armed forces in the United Kingdom, and as such is referred to as the Senior Service. Following the creation of the Kingdom of Great Britain in 1707, the modern Royal Navy was established after the merger of the Royal Scots Navy and the Royal Navy of England.
Royal Marines was subsequently founded in 1755 and constitutes the infantry force of the Royal Navy. From the late 18th century until World War 2, the Royal Navy was considered the most powerful in the world.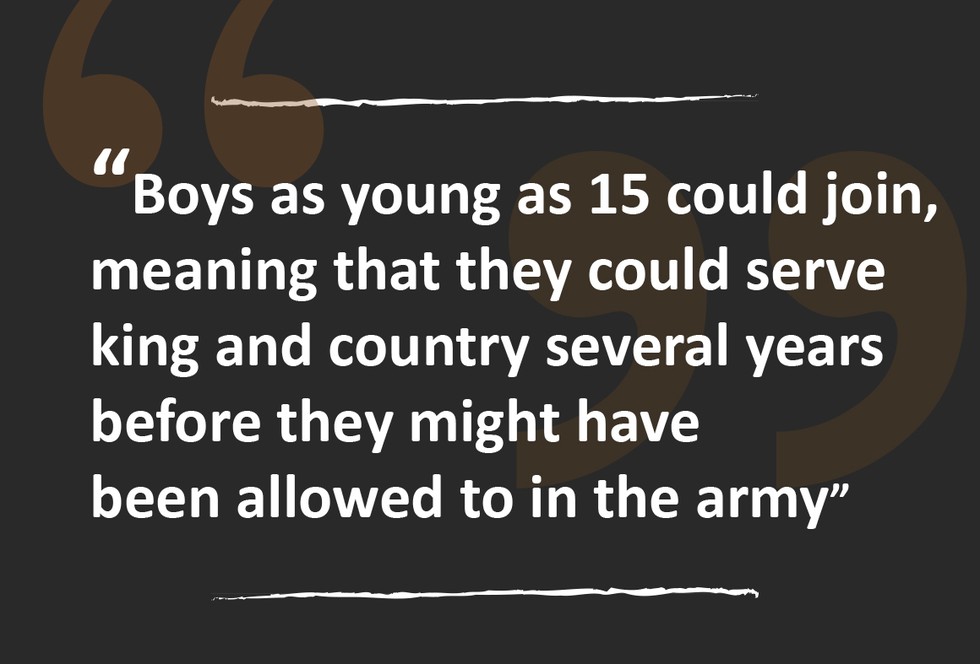 In terms of your research, while less detailed than army records, navy records still contain a great deal of useful information, which makes them a great starting point from which to broaden your research.

What records do we have?
If you go to our A-Z of records, then type in just "Royal navy", this list should appear: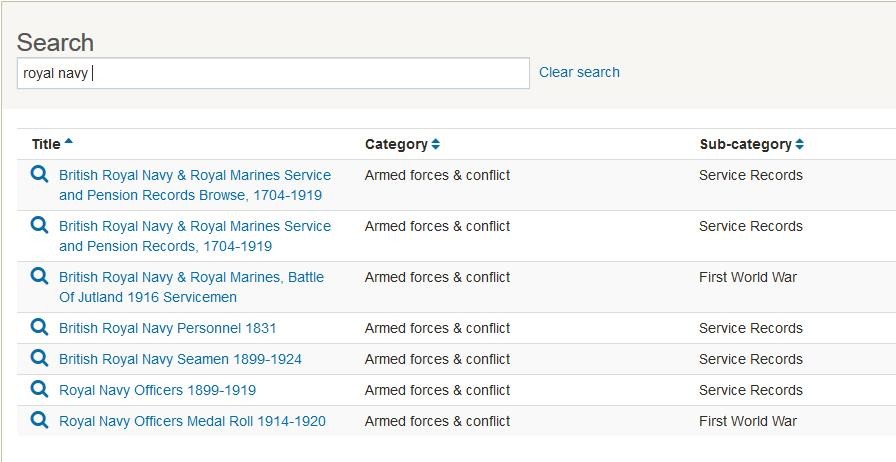 Also, try typing in "marines". This should pull up a slightly different list: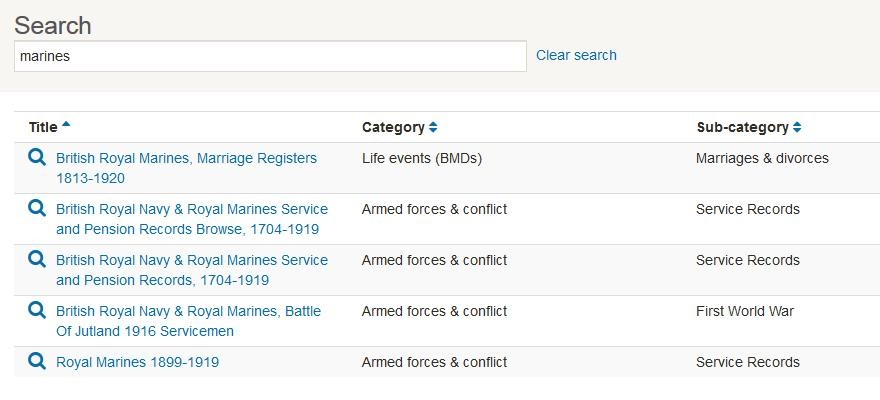 All of these are useful, but the key Royal Navy record sets to look out for are:
British Royal Navy & Royal Marines Service and Pensions records 1704-1919
British Royal Navy Seamen 1899-1924
Of these, the largest and broadest is the service and pension records 1704-1919, which includes 869,280 records.
The records in this collection relate to armed forces pensioners from the Royal Navy (seamen) and the Royal Marines (marines).
A typical record should include:

A summary of service
A brief description of the sailor or officer – including their character, ability
A line summary of the ships
This should provide enough information to continue to do research on the ship itself – where it sailed, and which battles it saw and when, which in turn will tell you something about your ancestor's experience.
Quick tips:
1. Once you've found your ancestors in the Naval Service Records, look for them in the medal records

2. It was possible to join the Royal Navy from the age of 15,so if a teenage boy appears to go missing in the records, check the navy!
Getting to grips with pensions
The inclusion of pensions in the records means that you can find not only details of the seaman's service, but also their pension claim and pension awarded, which itself can prove illuminating.

There are two types of pensions awarded by the Royal Navy and Royal Marines:
Out-pensions: Pensions awarded to veterans who were living independently
In-pensions: Pensions awarded to veterans living in the Royal Hospital Greenwich, which was the Navy's care home for its veterans. Those living in the town of Greenwich referred to in-pensioners as 'Greenwich geese
Pensions were originally paid out of the Chatham Chest, which was a fund set up around 1590 for the sole purpose of paying pensions to disabled seamen. Contributions were deducted from members' paychecks (sixpence per month) to finance the fund.
In 1804 however, the Royal Hospital Greenwich took over responsibility for paying out pensions. Hence, ex-seamen and ex-marines in receipt of pensions were referred to as Greenwich pensioners.

The National Archives series included in the British Royal Navy & Royal Marines Serive and Pensions records are as follows:
ADM 6 / 223-320 – Registers of candidates for admission to Greenwich Hospital and registers of applications to Greenwich Hospital for admission, out-pensions or other relief, 1737-1859
ADM 22 / 254-443 – Pay books of naval out-pensions at Greenwich Hospital, 1814-1846
ADM 73 / 1-69 and 95-131 – Admiralty: Royal Greenwich Hospital: Pensioners and School Admission Papers, Out Pensions Pay Books and Miscellaneous Registers 1704-1869, including general registers of pensioners and their families.
WO 4 / 887-891 – Greenwich Hospital pensions 1846-1854
WO 22 / 208 – Mercantile Marine: Miscellaneous returns for England, Scotland, Wales and Jersey
WO 23 / 24 – Register of Greenwich Hospital pensions 1868-1870
And don't forget...
Some of the smaller sets can be very useful for certain areas of research.
British Royal Navy & Royal Marines, Battle Of Jutland 1916 Servicemen has been specially curated by Findmypast to bring together the names of those who participated in the battle of Jutland between 31 May and 1 June 1926.
... And if you have any early 19th century ancestors who are proving tricky to track down in other records, be sure to check the British Royal Navy Personnel 1831. This muster list is perfect for filling the 1831 census gap for men who were at sea when the records were taken.