Our latest release the Irish Medical Directory 1852 lists medical practitioners, and members of scientific associations and societies, in Ireland in the mid nineteenth century.   Included in each entry is a notation of where the doctor or pharmacist received their training, previous places of employment and a list of their notable publications.   Some doctors made startling claims for their work.  Leslie Hamilton is matter of factly described as having cured cancer, although there are no further details about what the cure entails.

In spite of publishing these extravagant claims the directory represents one of the efforts to regulate the practice of medicine in the mid-19th century.  When the directory was published home remedies were still popular, quack doctors plied their trade and pharmacists blended their own concoctions in back room laboratories.  The mid-nineteenth century was a time of great innovation in medicine but many practices and ideas had not changed since the medieval period.  When the directory was published diseases like cholera, typhus, smallpox, TB and typhoid were still rampant.  It would be another 80 years before antibiotics were available.  Germ theory was still in the future.   Doctors did not understand or accept that germs caused disease, or that good hygiene could help prevent disease.
The doctors listed in the directory would have practiced bloodletting and prescribed addictive and poisonous substances such as mercury, cocaine and opium.  Doctors rarely washed between visits to the morgue and their still living patients, often transmitting disease.  Anaesthetics were newly introduced into surgical theatres in the early 1850s and surgery was still performed in front of an audience with un-sterilised equipment.  As can be seen from this 19th century photograph re-creating one of the first uses of anaesthetic, surgeons did not wear lab coats, gloves or masks.  Some were known to stick their sewing needles into the lapels of their coats, and others wore their blood encrusted coats with pride, never dreaming of having them cleaned.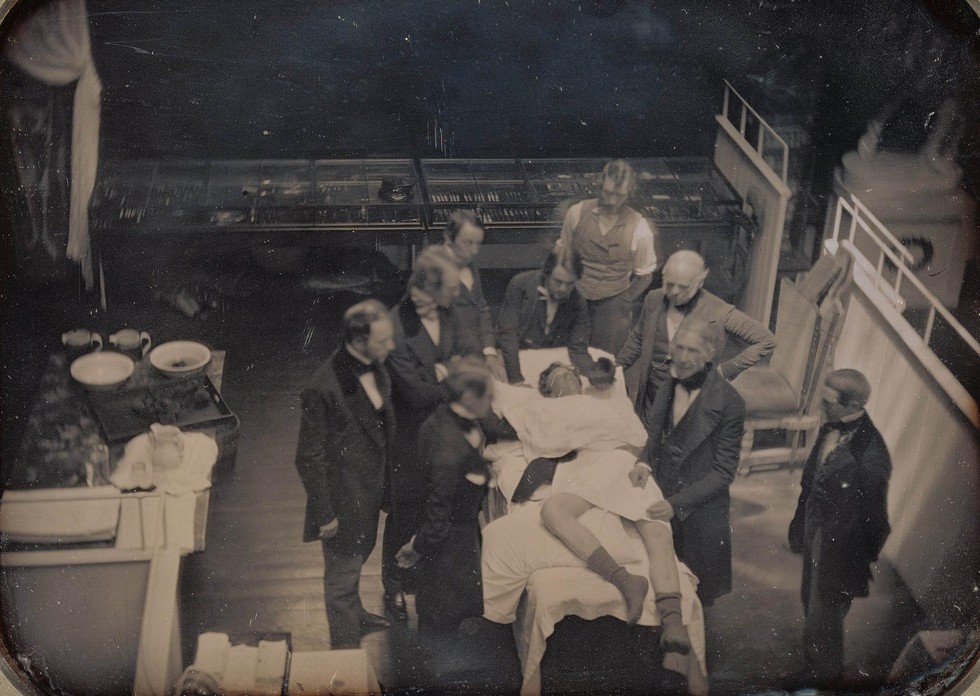 During the Great Famine a visit to the doctor was too expensive for many, and the tragedy saw many hundreds of thousands in need of medical care.  To address this the year before the publication of the directory the Medical Charities Act of 1851 consolidated over 700 district dispensaries funded from poor rates, each with a salaried midwife and medical doctor.   These were run under the auspices of the 163 Poor Law Unions (which also formed the basis for registration districts of births, marriages and deaths when that system was introduced in 1864).  The system was an early form of medical welfare.  Dispensaries used a ticketing system of black and red tickets.  Black tickets allowed a patient a free visit to the doctor at the dispensary; a red ticket got you a home visit.  As an educated person doctors occasionally found themselves visiting a patient only to be asked to help write a letter or fill in a will rather than dispense medical advice.
Below is a typical entry for one of the doctors.  Thomas Babington received his Bachelor of Arts in 1832 and his Bachelor in Medicine in 1834 from Trinity College Dublin, he was licensed by the Royal College of Surgeons (LRCS) in 1834 and also holds a fellowship from Royal College (FRCS).  He trained in Midwifery at the Lying-in hospital in Dublin (maternity hospital, most likely the Rotunda).  At the time of publication he is medical officer in Coleraine Workhouse and Fever hospital (fever hospitals were often separate from other hospitals due to the contagious nature of many fevers).  He previously worked in two dispensaries in Portstewart and Donoughmore.